Hot Docs – Home Town Show!
Just wrapped up a wonderful week at Hot Docs. It was something of a homecoming for Seltzer Works as I was born and raised in Toronto. The film was paired with Chris Hegedus and D.A. Pennebaker's Kings of Pastry. Which was of course a great honor and Chris and Penny are lovely. They are starting a new film with The National, one of our favorite bands!
The film screened at the Bloor Cinema, one of the biggest rep houses in Toronto and the place we used to go watch Rocky Horror Picture Show in junior high school! We had such a wonderful response at the screenings and lots of 'foodies' came out to see the program, including Sarah Elton, whose book The Locavore is taking Canada by storm. It seems Gomberg's Seltzer is sustainable!
It was a great week and it just primed us for our next round of screenings including our New York premiere on June 1st!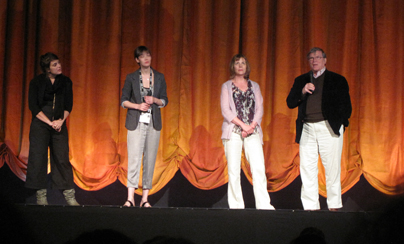 Sharing the stage with (from right to left) Penny, Chris, and Lynn from Hot Docs
CATEGORIES: Film Festivals