Who Fills Those Bottles?
When we first heard about Gomberg Seltzer Works, the stories weren't so much about Kenny, but about his seltza men; the five or six guys that are still out delivering the heavy glass bottles to thirsty customers all over New York's five boroughs.
There is Walter Backerman a true charecter with great seltzer stories. There is a great radio peice about him here. And Eli Miller whose truck is actually a station wagon, and who has been immortilized for generations to come in the children's book The Seltzer Man written by Ken Rush. And of course the now infamous Ronnie Beberman who had a terrible accident on his route last year, but couldn't wait to get back on the truck. (Ronnie's hands are the ones you see stacking the crates in our film.)
Much has been written about these delivery guys and many of them are second or third generation. But who are the people around the country who keep the bottles filled?
There are only a few seltzer fillers (or works) left in the country. One that we have been especially interested in is the Pittsburgh Seltzer Works, they have just sourced equipment and a new truck from Rhode Island and there is nothing stopping them now! We have also read about Under Pressure in Seattle, who deliver on a bike! And the Seltzer Sisters in San Francisco and the Bay Area.
But, unlike the delivery guys who fill up with Kenny, most of these fillers operate their own delivery services. We have yet to find a place like Gomberg's where all the delivery guys have their own routes and customers. Just like in the old days.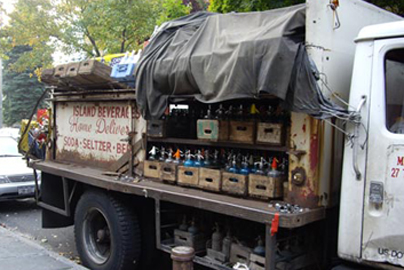 Ronnie's Truck
CATEGORIES: Seltzer Sourcing